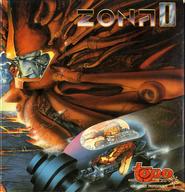 Zona 0 is a 1991 videogame from Spanish company Topo Soft, for ZX Spectrum, Amstrad CPC and MSX 8-bit home computers, and for PC-VGA.
The game recreates the Light Cycle sequence from TRON. Two players drive a cycle each inside an isometric arena and try to wrap and block the opponent's cycle path to achieve the victory. Cycles only turn in angles of 90 degrees and leave a solid Jetwall in their wake.
The cover art is by Spanish famous illustrator and cartoonist Alfonso Azpiri, and features a prominent evil Sark-like character, a light cycle-alike machine and raider, and a clearly TRON-inspired title logo, to a point that the "O" and "N" letters of "Zona" looks exactly the same as those of the TRON logo.
Despite the evident similarities, the game is not an officially licensed product with Disney (a customary of many videogame companies of the era).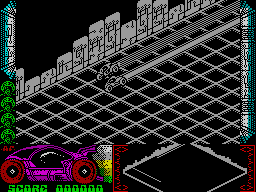 External links
Edit
Ad blocker interference detected!
Wikia is a free-to-use site that makes money from advertising. We have a modified experience for viewers using ad blockers

Wikia is not accessible if you've made further modifications. Remove the custom ad blocker rule(s) and the page will load as expected.