This article is written from a
Real World perspective.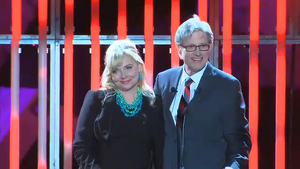 Yori Lives is a fan campaign that aims to bring back actress Cindy Morgan and her characters Yori and Lora Bradley in Tron Legacy. Originally, in Tron 2.0's storyline, Lora Bradley was killed in a digitizing accident in the early 90s. However in 2010, it was revealed that the storyline for Tron 2.0 was retconned for Tron Legacy, effectively bringing Lora Bradley back to life. The campaign originally focused on just bringing back Yori for a cameo in Tron Legacy, but after news of Tron 2.0's retconning spread, the campaign changed its goal to bring back Yori, as well as Lora.
On February 27th, 2010, as part of the Flynn Lives ARG, a special screening of the Tron Legacy trailer was shown in five cities around the world including Los Angeles, California, where a surprise Q&A with Director Joseph Kosinski and Tron creator Steven Lisberger was held after the trailer was shown. During the Q&A session, a member of the audience asked if Cindy Morgan was returning in Tron Legacy. Kosinski's response was:
| | | |
| --- | --- | --- |
| " | Cindy Morgan? Her character is not in "Tron Legacy," but that doesn't mean she's not in the world of Tron. | " |
Two months later, on April 2nd, 2010, an ENCOM press conference was held in San Francisco, California (also part of the Flynn Lives ARG), where Alan Bradley - portrayed by Bruce Boxleitner - showcased the new Space Paranoids Online game. During the conference, Alan brought out his wife, Lora Bradley - portrayed by Cindy Morgan herself. This was the first time the character was seen (and played by Morgan) in almost 28 years, since Tron's release in 1982.
Cindy Morgan has stated in interviews that she's been very thankful for the fans behind Yori Lives and wholly supports the cause.
While the campaign was successful in bringing Lora back, it is still unknown if the character will return for Tron Legacy.