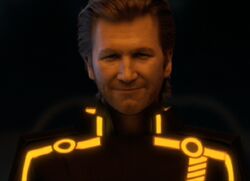 Greetings, Program! Welcome to Tron Wiki! Thanks for your edit to the User:ZenTrio3 page.
Please leave a message on my talk page if I can help with anything! -- WarBlade (Talk) 04:07, 16 June 2012
tron & kevin flynn will wait
kevin flynn deceased and tron derezzed can wait, if the third movie comes and then will be sure if tron and flynn returns just in case if the third movie is complete.
User:JarodMighty 08:25, July 3, 2012 (UTC)
Ok...Fine. But for now, leave it, ok?
ZenTrio3 05:25, July 4, 2012 (UTC)
Disney XD?
Disney XD usually releases episodes of TRON: Uprising online every Friday (one day after the TV airing, which is on Thursday).
The last time I checked (Friday), the episode "Isolated" wasn't out.
What happened?
ZenTrio3 19:53, July 7, 2012 (UTC)

I wish I knew maybe they had some technical difficulties Oh and thanks for the edit on the article on Beck's wiki I kinda put way to much detail in summaries
It's fine.
ZenTrio3 05:27, July 10, 2012 (UTC)