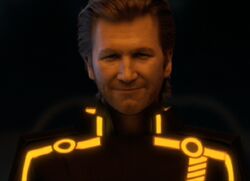 Greetings, Program! Welcome to Tron Wiki! Thanks for your edit to the MCP page.
Please leave a message on my talk page if I can help with anything! -- WarBlade (Talk) 10:41, 24 December 2011
Infobox Data
Edit
Please refrain from re-editing in comments into infoboxes. That information is your opinion and as such should be confined to the articles' talk pages. Additionally you have also reintroduced content that was reverted twice on the Rinzler page. Edit warring is unproductive, and as such disputed content MUST be raised on the talk page. -- WarBlade 22:31, December 26, 2011 (UTC)
Final Warning
Edit
You have been requested to take opinion edits to appropriate article talk pages, and have repeatedly ignored these requests and reintroduced your edits. If you do this again you will be blocked. -- WarBlade 00:35, December 27, 2011 (UTC)
It's really depressing that someone who doesn't know or is inconsiderate about TRON lore is in charge of this wiki. I ask you to actually think about what I've been writing on Tron's page before making your judgements. I've gotten my information from TRON lore itself. The ISOs distinguish themselves by having white circuitry. Flynn and Sam are distinguished as Users by having white circuitry. Most other programs in the film have turquoise or blue circuitry.
In just 2 days I've already made a page for Jensen Ackles and gained the position of Rank 40 on this wiki. Think about that before blocking me Blade, you will be losing an editor who knows TRON lore well if you block me.
TheMattMan095 00:44, December 27, 2011 (UTC)
Masked DJ's
Edit
The characters actually played a set of songs in the End Of Line club: The first one was "End Of Line", the second was an untitled track, and the third was "Derezzed". (VicGeorge2K9 09:25, December 27, 2011 (UTC))
Alright, I get it. That was my bad. I edited it again to say set. But keep my flow of events. It's easier to read. No hard feelings.

TheMattMan095 09:27, December 27, 2011 (UTC)