Greetings, Program! Welcome to Tron Wiki! Thanks for your edit to the Grid Limo page.
Please leave a message on my talk page if I can help with anything! -- WarBlade (Talk) 20:41, 5 June 2011
Galleries
Please put galley images inside the gallery tags. Thumbnails are for using in things like body text. -- WarBlade 23:01, June 5, 2011 (UTC)
Additionally, your number of gallery edits is unnecessarily high. You can put all additions in and preview the edit before posting. Publishing the page after each individual image is added, when a number of them are uploaded, will not be tolerated for long. -- WarBlade 22:37, June 7, 2011 (UTC)
Command Ship TRON:Evolution
You ALL may know bout the early 90's/21 century carrier ship, there is ALSO a bigger type found in tron Evolution but data Hasan't even been recorded yet [if you DON't believe me, check out some video's on youtube with the XXL ship in it]
Concepts Art Littering Galleries
Hi, can you tone down the concept art additions now please. We only need to see what the subject looks like, not include every pencil sketch, untextured model and piece of concept art ever made for everything in the TRON universe. -- WarBlade 08:01, January 21, 2012 (UTC)
This is getting way out of hand. The Tron Wiki is not a gallery. It's an information resource. I'll repeat myself: We do not need every art concept image for everything ever seen here. Those were merely ideas, in some cases discarded, on the way to creating the final product. The subject should be about the final product. So please stop turning the Tron Wiki into a concept art gallery. -- WarBlade 21:34, March 3, 2012 (UTC)
CLU's Personal Ship @ TRON.Com?
Great pics you took from the site & all, which will also provide plenty of info needed for expanding this Wikia & how would your GRID Avatar get there on the website?
A warning from a fellow wikian
I see now how you got your "High Rez' badge; Your rate of uploading pictures is incredible. However, I will warn you -- our administrator, Warblade, may not want you to be uploading pictures like this. he once told me,
"This is a wiki, not a photo archive. The objective of a gallery is simply to demonstrate something within the context of an article, not to show off every scene."
Seeing as you only just got your achievements back, I'm just warning you now not to be excessive in uploading these pictures. It's not like I have much of a problem with it, I just don't want to see your achievements get taken away again. :) Jeyo 00:46, April 23, 2012 (UTC)
That was fun with you and I editing those TRON: Uprising pages at the same time. I think we make a good team with that sort of thing: you create the pages and I fine-tune them! :) Jeyo 21:17, May 2, 2012 (UTC)
And scratch my first message. I think you're awesome. Jeyo 21:18, May 2, 2012 (UTC)
Image Warning
Do not upload any more of those blurry "PCzelo" images. You only get one warning. -- WarBlade 03:37, May 4, 2012 (UTC)
Lack of comments
I would have been commenting on your blog posts, but my comment function isn't working for some reason. Anyway, here's my comment to the "New Vehicles" blog post:
I wonder why they would need Light Boats, Rails and Copters if they have Solar Sailors, Light Cycles and Jets.
Jeyo 23:44, May 11, 2012 (UTC)
Creating a page
Oh, darn, you beat me to creating Tessler's Command Ship. :) Jeyo 19:58, May 14, 2012 (UTC)
Wow. We just tried to edit the SAME PAGE at the SAME TIME by adding the SAME PICTURES! I ran into an "edit conflict" while editing the Tessler's Command Ship page and realized you had just done that! Jeyo 20:28, May 14, 2012 (UTC)
new tron uprising pictures uploading
about the pictures of new ones you add it just hours and hours ago where did you get those from?
User:JarodMighty 16:22, May 15, 2012 (UTC)
I'm pretty sure he got them from here:
Jeyo
16:55, May 15, 2012 (UTC)
Galleries
Galleries exist to to demonstrate a character. They are not provide a license to litter every article on the wiki with every shot you can find. Please tone the gallery additions immediately. -- WarBlade 23:05, May 16, 2012 (UTC)
Something interesting
I thought you'd find this interesting: Flynn's Light Cycle is in TRON: Uprising!
Jeyo
03:56, May 19, 2012 (UTC)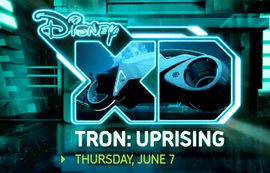 Image Uploads
I shouldn't have to repeat myself to you on the subject of galleries and image uploads, but I've already asked you to tone it down and you've ignored that warning. I'm blocking you again to let that sink in. When you are able to edit again I expect you to observe the following:
Name every image upload appropriately with a name that identifies the subject. "Dhgfdf.jpg" and the like will no longer be tolerated.
No more blurry shots as if a camera has been pointed at a TV screen. Quality images only.
-- WarBlade 22:58, May 27, 2012 (UTC)
Mara picture
That's an awesome picture of Mara you uploaded. Where did you get it from? Jeyo 06:01, June 7, 2012 (UTC)
Paige photo
Where did you find that 2D drawing of Paige? Daniel1ksc 03:16, June 8, 2012 (UTC)
From a game on Disney XD's website called Renegade Strike.
Bit picture
Argh, you beet me to the Bit picture from Uprising! :D Jeyo 18:59, June 8, 2012 (UTC)
Sorry, I just work that way sometimes.
No it's not a problem. I was just commenting on it because we often upload similar or the same pictures :) Jeyo 00:28, June 9, 2012 (UTC)
Yeah, I've noticed that lately. I actually like it when someone uploads a picture or makes a page before I do.
p.s. The Renegade Part 2 is now online on Disney XD's website to watch.
Not in my country. It won't let me. Jeyo 00:38, June 9, 2012 (UTC)
What is your country? (You don't have to tell me)
USA. And it works now. I guess the first released in other countries. Jeyo 02:24, June 9, 2012 (UTC)