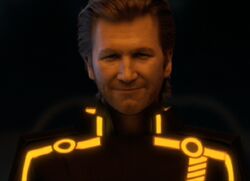 Greetings, Program! Welcome to Tron Wiki! Thanks for your edit to the Tron page.
Please leave a message on my talk page if I can help with anything! -- WarBlade (Talk) 05:47, 6 October 2012
tron's status protest
Edit
hi i want to warn you about kevin flynn & tron. my friends warblade & zentrio3 told me something - warblade said:
The character articles will stay as they are. They're not under development, and the character histories end with Legacy and The Next Day. Anything after that is pure speculation and has no business being added (outside of a blog post or user namespace). If another TRON movie is ever made, and new information becomes available, then we will update statuses accordingly. "Unknown" is not appropriate for use in infoboxes. The data will either be something quantifiable, or be left blank.
and zentrio3 said:
we don't know their true statuses, but based on what we saw in TRON: Legacy, they are both deceased.
and the active word you put it on tron's status is not to be on there
User:JarodMighty 14:10, October 6, 2012 (UTC)