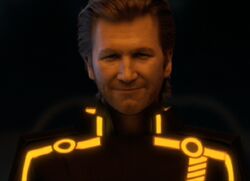 Greetings, program! Welcome to Tron Wiki. Thanks for your edit to the Tron: Uprising S01E15 State of Mind page.
Please sign in and create a user name. It's an easy way to keep track of your contributions and helps you communicate with the rest of the community.
Please leave a message on my talk page if I can help with anything! -- WarBlade (Talk) 04:52, 13 February 2013
My name is Cyrus. My challenge has begun. Let the games begin.
END OF LINE.
Hello. Me, Cyrus again. If you would like more info on my challenge, leave me a message on my IP address page.
This challenge is for those who read this page. The challenge will not be easy.
I am currently working on a special "Logic-code key" that can help you during my challenge.
Tell me if you want to participate in my challenge.
Like I said it won't be easy.
Logic-code keys will be limited. Tell me if you would like more details.
I will tell you this. The challenge is a big puzzle. You will have to solve smaller puzzles to solve the next.
Catch me if can. It WON'T be easy.
END OF LINE.
Hey everyone. Cyrus again. Sorry about that last message about some "challenge." That was just my little cousin be the little sneak that she is. 
But I'am actually working on a Wiki ReCoder. She said it was a key. That was incorrect.
What it does is it analyzes any article, etc. to see what can be cleaned up. It can then modify the code of the article to make it more presentable. 
You know how messy articles that need cleaning up are annoying just to read? I found that messy articles are because of a glitch that cause  little bits of code to be manipulated when an article is published. My Logic-ReCode Cube can repair the broken code and "clean up" the article. 
Tell me if anyone would like more info. I really think this creation of mine could make the Tron Wiki a better place.
Again, please ignore my first messages. that was my little cousin doing what she does best: causing trouble. I had not seen i had a message when she did that. sorry about that. 
Here is a link to a talk page about my Wiki Recoder I have made.Wiki ReCoder
---
This is the discussion page for an anonymous user who has not created an account yet or who does not use it, identified by the user's numerical IP address.
Some IP addresses change periodically, and may be shared by several users. If you are an anonymous user, you may create an account or log in to avoid future confusion with other anonymous users. Registering also hides your IP address.
Help: Why create an account? • How to create an account • WHOIS