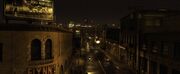 A new image from Tron Leagcy will be released everyday this week to mark the release of Tron Legacy's first teaser trailer!! The first image shows Flynn's Arcade's currect condition in 2010. Obviously this movie is going to be dark and grim, unlike the original Tron movie. Pure awesomeness!
Also rumors are coming in that Steven Lisberger is personally overseeing the color correction process for Tron's first ever high definition release on Blu-Ray! This is the first re-release of Tron in 8 years, as well as being the very first release of Tron in Hi Def. I gotta get a Blu-Ray player for Christmas! XD
More images on the way as soon as they come out!

END OF LINE.
Ad blocker interference detected!
Wikia is a free-to-use site that makes money from advertising. We have a modified experience for viewers using ad blockers

Wikia is not accessible if you've made further modifications. Remove the custom ad blocker rule(s) and the page will load as expected.