Check out these awesome postcards!!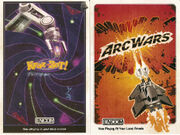 Hopefully they'll pop up in your mailbox very soon, but right now it's currently unknown if they're being randomly sent out or if they're for everyone.
There's a code in the back of these cards and our friends at unFiction are racking their brains trying to decode them. Good Luck guys!
Stay tuned to Tron Wiki for more info!