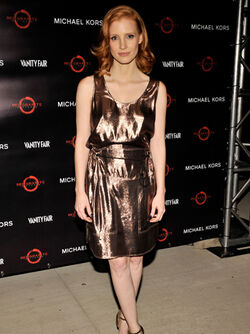 It's not as good as news for a third Tron film, but the director Joseph Kosinski does have a next project in mind. Formerly titled Oblivion and Horizons, the now-untitled sci-fi flick just cast Jessica Chastain, who now joins Tom Cruise.
"Set in an apocalyptic future where the majority of humanity lives in the clouds, Cruise will play a man who works on the Earth's surface, repairing the machines that ward off an alien threat; Chastain will play his love interest who still lives above. When Cruise meets another woman who appears to have crash landed on the barren planet, he's driven to reexamine everything he knows."
Will it be as futuristic and concept-driven as Tron? It was originally conceived as a graphic novel by the director, so I'm guessing that the graphics will be just as stunning as the Tron movies.
What do you think, Tron fans? Worthy of a Tron legacy? Tell us in the comments!
Source
Ad blocker interference detected!
Wikia is a free-to-use site that makes money from advertising. We have a modified experience for viewers using ad blockers

Wikia is not accessible if you've made further modifications. Remove the custom ad blocker rule(s) and the page will load as expected.