Comment

1
HalusaTwin - TRON:R3M4573R3D (Sound Track)
thumb|right|300px|Tron:R3M4573R3D - HalusaTwin (1-4)
thumb|right|300px|Tron:R3M4573R3D - HalusaTwin (5-7)
thumb|300px|right|Tron:R3M4573R3D - HalusaTwin (8-10)
thumb|300px|right|Tron:R3M4573R3D - HalusaTwin (11-14)
thumb|300px|right|Tron:R3M4573R3D - HalusaTwin (15-18)
thumb|300px|right|Tron:R3M4573R3D - HalusaTwin (19-22)
thumb|300px|right|Tron:R3M4573R3D - HalusaTwin (23-26)
thumb|300px|right|Tron:R3M4573R3D - HalusaTwin (27-31)
thumb|300px|right|Tron:R3M4573R3D - HalusaTwin 32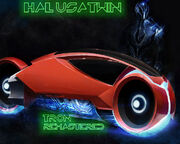 Here are a few Tracks from the remastered mix up by HalusaTwin.
All Tracks are owned by HalusaTwin™ 2011
Enjoy!
HalusaTwin - TRON:R3M4573R3D
TRON 1.2
CROM
CLU 1.0
De-Rezzolution
The MCP
Alan 1
Digitize Me
Encom
Enter The Grid
Fear The Users
Digital Prison
ID Disc
RAM
Ring Battle
Light Cycle
Virtual Esc
Conscripts
Our Mission
Tank Programs
Regenerate
The Power of a User
Yuri
Bit (01100010 01101001 01110100)
Yench (City 01)
Tower Gardian
The Key To The Future
Solar Sail Simulator
Power Cycles
A New Reunion
Physics 101
Sea Of Simulation
Tron Lives
MCP De-rezzed
End Of Line
R3M4573R3D

This is the Full Movie (Playlist) Remastered by HalusaTwin. Parts of the movie still contain original sound track with the new soundtrack layered on top. The editing is sketchy but reasonable.
The movie sync between lip and voice are slightly out in some parts too which I can only apologise for.
I hope you enjoy this version of the Original 1982 Movie TRON
http://www.youtube.com/playlist?list=PL22A6846AFF4E9CBF