Comments

3
MAJOR differences in TRON: Uprising
Ad blocker interference detected!
Wikia is a free-to-use site that makes money from advertising. We have a modified experience for viewers using ad blockers

Wikia is not accessible if you've made further modifications. Remove the custom ad blocker rule(s) and the page will load as expected.
Just by looking at the footage for the upcoming animated series, TRON: Uprising I can find some MAJOR changes in animation and scenery. Here are some photos that compare the original footage from the teaser to the recently seen tv ads: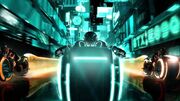 1. A new Light Cycle design by Daniel Simon is replaced by the 5th Generation Light Cycle design from TRON: Legacy.
2. Beck's Light Cycle is a different shade of blue and the two Light Cycle opponents appear to be red instead of the original yellow color from the first teaser trailer.
3. The city is more of a green color than a light blue color.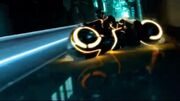 1. Again the colors and Light Cycle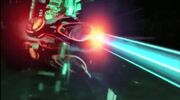 design have been changed.
2.Also the images appear to be flipped.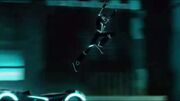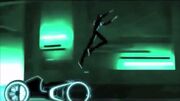 1. Beck appears to have less circuitry on his body.
2. Again the colors and Light Cycle design have been changed.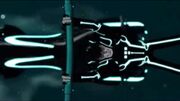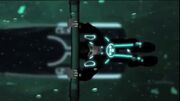 1. Beck's circuitry design has been heavily redesigned.
1. Beck appears to be more of a light blue color than the original white color.
3. Beck's visible body parts are replaced with CGI (his face and his hands)
I'm going to be honest with you. I found the original teaser footage a lot better looking than the footage shown in the recent tv spots. The animation looked a lot more clear so that it stood out. I don't really like the GGI faces as much as the normal style. But it is cool to see a new Light Cycle design by Daniel Simon. (I still prefer the 5th gen Light Cycle!)