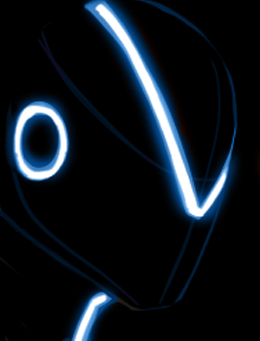 All right, time to make this worth something. Reisse here, longtime fan of the movie and games (I almost feel old mentioning that I was king of Intellivision's Tron: Deadly Discs as a kid), and eventually grew into a heavily tech-loaded environment. (I build computers, not for a living, but maybe someday.) So I've been pretty into computers and programs, even though I can't even manage much html *shame*. Someday! *shakes fist*

Cue back in December, a week after the movie came out, and Tron:Legacy just brought me right back into the place that had been hiding out in the back of my mind all these years. Yeah, I'm a Tron nut, I admit it. Looking for a place to brush up on information and all that sort of thing, I stumbled on Wikia's Tron Legacy page, and here I am today.

Reisse, my username, comes from my very first Tron character I had when I was about 10, about seven years after I saw Tron the first time. Yes, my parents took me when I was three. My dad was into that sort of thing, so along I went. That and my current housemate (whom I've lived with nearly eight years, rock! The dude is awesome) is what brought me into the tech world.

The character himself is a double agent, or so he evolved into. He was originally just a baseline security program. He still is security, but spends countless cycles gathering intel in CLU's army. There and everywhere else, Reisse (pronounced "race") is known as Risc. No one knows he is a double agent, except a now corrupted program who had forgotten him, and the User he works for.
My favorite pages
Edit
Add links to your favorite pages on the wiki here!
Favorite page #2
Favorite page #3