Jeyo
Biographical information
Username
Jeyo
Aliases
Kai
Status
Alive
Physical description
Gender
Male
Other information
Programs
Klorr
Allies
User:DaftPunkGuy
User:WarBlade
Out of universe information

Greetings programs! I am Jeyo. At the moment, TRON is dominating my life. I sort of go through phases. First it was Star Wars, then Lord of the Rings, then TRON, then Lord of the Rings again, back to Star Wars and now here I am again, more into TRON than I ever have been before. These are most of the things I like to do:
Draw
Create characters
Read (Harry Potter, Calvin and Hobbes, Peanuts and Battlefield Earth)
Write
Compose music (For the the books / movies I'm writing)
Act out battle scenes (and then put them into storyboards so I won't forget any cool moves)
Talk
And edit the Tron Wiki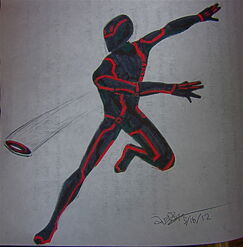 So yeah... that's about it!
To do list
Add pictures to Beck
Expand General Tessler
Expand Mara
Create separate pages for each TRON: Uprising episode
Add the TRON: Betrayal era icon to all TRON: Betrayal-related subjects
Expand Argon City
Pages I have created