Jeyo
Biographical information
Username
Jeyo
Aliases
Kai
Status
Alive
Physical description
Gender
Male
Other information
Programs
Klorr
Allies
DaftPunkGuy
Gibson42
Out of universe information

Greetings programs! I am Jeyo. At the moment, TRON is dominating my life. I sort of go through phases. First it was Star Wars, then Lord of the Rings, then TRON, then Lord of the Rings again, back to Star Wars and now here I am again, more into TRON than I ever have been before. These are most of the things I like to do:
Draw
Create characters
Read
Write
Compose music
Talk
And edit the Tron Wiki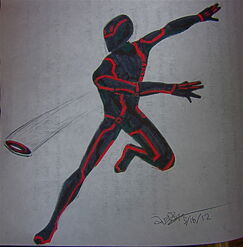 So yeah... that's about it!
To do list
Add images to Beck
Expand all TRON: Uprising articles and bring them up to date.
Introduce a Manual of Style.
Add the TRON: Betrayal era icon to all TRON: Betrayal-related subjects
Pages I have created