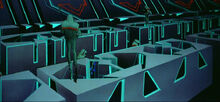 Greetings programs! Call me "Jere".
I'm 25 years old and an artist by nature, fooling myself about making it into some form of career when it's really only a lifetime obsession of the soul. I am attempting the same with writing as I find myself getting older.
I'm very laid back, nerdy and geeky but not in a genius way. I'm casual, jovial and love to play at being retarded when I'm caught unawares. As much as I wish I was truly tech savvy, I am not. I suppose that might be awkward as I seem to love Tron so much!
I watched Tron on and off in bits and pieces as a kid, but was always fascinated by its style. I never saw the whole thing in one sitting until about roughly 10 years ago. Despite being a little late with that, I've still always had that lingering interest, especially since "my discovery" of the internet back around 2000 to 2001. I couldn't figure out how to even surf it. My family household had always been rather anti-computer, so I was late on the technology bandwagon.
Well, when I was in high school, trying to surf the net one afternoon, I found myself in some back room of Disney's movie concepts for the next several years. It was strangely easy to get to, but probably not if you were actually looking for it. There were at least 20 ideas, possibly of which only a third have we even seen. A Tron sequel was there.
We came to know it as Tron 2.0. I never stop being amused at my blundering luck back then.
But on I go anyhow. Why am I here? I find myself loving this wiki, referencing it often and always advertizing it other Tron fans. How my love came to be rekindled for Tron is all thanks to a friend of mine who alerted me to Tron: Legacy around mid-2010. We followed the progress avidly, and she even told me of a novel I didn't realize existed: Tron; a 1982 novelization of the screenplay. With recent luck, I procured a copy or two for the both of us.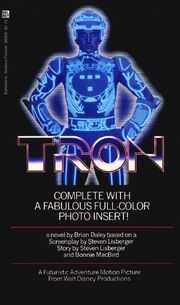 I'm here to add that books information, since it explains and elaborates so much of the original film.
Since the whole… wiki-editing thing is new to me, I'm open to getting pointers and learning from the pros. I have a great respect for the fans that make this site what it is, and trust me…I don't want to error if I can help it! I'm just a guest after all.
My Original Programs
Edit
Diode: Rogue energy maintenance
Ty4: Beta search and initiation
Binary: Dual logging and information organizer
442.3: (Golgom) Disc reader 1
443.0: (Thracet) Disc reader 2
444.0: (Gideon) Disc reader 3
My favorite pages
Edit
Add links to your favorite pages on the wiki here!
Favorite page #2
Favorite page #3