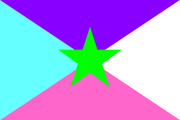 Allronix has been a fanfic writer for over 25 years,spanning at least a dozen fandoms, including Star Wars, Star Trek, Tin Man, Once Upon a Time, and the Galaxy Rangers cartoon series. In the Tron universe,she has at least six fanfics, including the novel-length Through a Diamond Sky, which brings the character of Jordan Canas to the Grid. Currently, she is writing Tron: Invasion, an adaptation of Tron 2.0 that is compliant with the Legacy timeline.
She and her twin suister became fascinated with the world of Tron at the age of five, watching their VHS copy until it broke and spending far too many hours on the Intellivision games.
When not repairing computers or writing fanfic, she is tied up with left-wing political activism or spending time with her family.
Links