This article is written from a
Real World perspective.

The Tronorail was Walt Disney World Monorail Coral painted and wrapped to look like a program on a light cycle. The decals on the sides were applied as part of the promotional campaign for TRON: Legacy, which made its debut on March 19, 2010 and have since been removed from service. It's last and final run was Friday, July 8 2011.
With a few exceptions, the monorail usually ran from Epcot to the Walt Disney World Transportation Center, and could be seen as it circled the teardrop through Futureworld.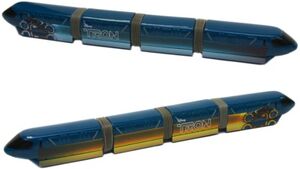 External Links