This article is written from a
Real World perspective.
The Tronorail was Walt Disney World Monorail Coral painted and wrapped to display a program on a light cycle. The decals on the sides were applied as part of the promotional campaign for TRON: Legacy, which made its debut on March 19, 2010 and have since been removed. The Coral's final run with the Tronorail design was Friday, July 8 2011.
With a few exceptions, the monorail usually ran from Epcot to the Walt Disney World Transportation Center, and could be seen as it circled the teardrop through Futureworld.
External Links
Edit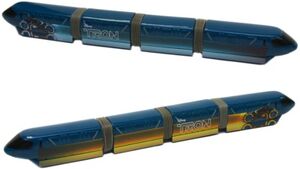 Ad blocker interference detected!
Wikia is a free-to-use site that makes money from advertising. We have a modified experience for viewers using ad blockers

Wikia is not accessible if you've made further modifications. Remove the custom ad blocker rule(s) and the page will load as expected.