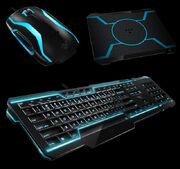 To coincide with the release of TRON: Legacy, the computer gaming equipment company, Razer, designed and sold a series of gaming accessories that echoed the look and feel of the movie. The accessories included a gaming mouse, a gaming keyboard, and a package that included both the mouse and a themed mousepad. Each were released to generally mixed user reviews, citing the high price as a detractor, but the overall design as the products' strong points.
The mouse (which is ambidextrous in design) features both light and sound alerts that react to the user's movements. Its technical specifications also featured a 5600dpi laser sensor. This same mouse (with no additional modifications) was included in the mouse/mousepad package.
The keyboard featured light and sound alerts similar to those of the mouse, as well as a detachable modular keypad that attaches on either side of the main keyboard.
External Links
Edit
Ad blocker interference detected!
Wikia is a free-to-use site that makes money from advertising. We have a modified experience for viewers using ad blockers

Wikia is not accessible if you've made further modifications. Remove the custom ad blocker rule(s) and the page will load as expected.