The PeopleMover Thru The World Of Tron
Talk

0
Share
Ad blocker interference detected!
Wikia is a free-to-use site that makes money from advertising. We have a modified experience for viewers using ad blockers

Wikia is not accessible if you've made further modifications. Remove the custom ad blocker rule(s) and the page will load as expected.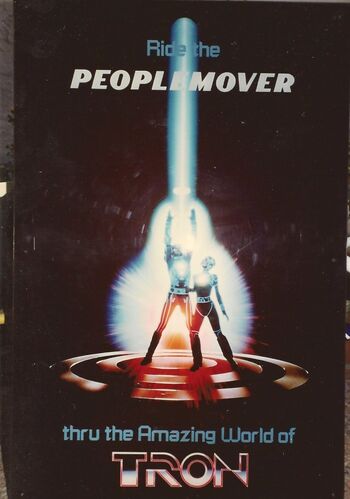 The PeopleMover Thru The World Of Tron, sometimes referred to as the WEDWay PeopleMover, was a transport attraction that operated from July 2, 1967 to August 21, 1995 in Tomorrowland at Disneyland in Anaheim, California. Guests boarded small trains that ran on elevated tracks for a "grand circle tour" above Tomorrowland.
A second PeopleMover, known as the WEDway PeopleMover, of a somewhat different design, opened at the Magic Kingdom in Lake Buena Vista, Florida in 1975, and operated from 1994 to 2009 as the Tomorrowland Transit Authority.
The name was changed to "Tomorrowland Transit Authority PeopleMover" on August 5, 2010, but it is still operating.
The Tron Super Speed Tunnel
Edit
In 1977, the SuperSpeed Tunnel was added to the PeopleMover. It was located in the upper level of the Carousel Building, which then housed America Sings.
Race cars were projected on the walls of the tunnel all around the trains. In 1982, the projections were changed to scenes from the film TRON and the tunnel was announced as the Game Grid of Tron by the on-board audio guide, who at that point was a British-accented computer voice who replaced the usual gentle female narrator.
After this addition, the attraction was advertised as the "PeopleMover Thru the World of Tron".