This article is written from a
Real World perspective.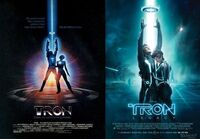 The TRON franchise is a science fiction series of movies, consisting of TRON (1982) and TRON: Legacy (2010) as well as several games, such as TRON 2.0, TRON: Evolution and TRON: Evolution - Battle Grids, comics, and an animated show called TRON: Uprising.
The arcade games up to TRON 2.0 and the Kingdom Hearts II and Ricochet games are considered non-canon to the main TRON Timeline. TRON: Evolution is considered canon.