Ad blocker interference detected!
Wikia is a free-to-use site that makes money from advertising. We have a modified experience for viewers using ad blockers

Wikia is not accessible if you've made further modifications. Remove the custom ad blocker rule(s) and the page will load as expected.
This article is written from a
Real World perspective.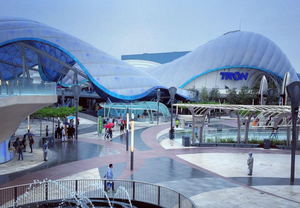 The TRON Lightcycle Power Run is a TRON-themed "motorbike style" steel roller coaster located in Shanghai Disneyland. It opened on June 16, 2016 with the rest of the park.
Ride Description
Edit
Guests board light cyles (roller coaster cars) and depart from the Real World through a portal, entering the Grid and beginning a "heart-pounding race for survival." Through the use "lights and 3-D graphics" and Daft Punk's score for TRON: Legacy, guests are placed into the role of "Users" who must "compete against some of the Grid's most menacing Programs".¹
Refrences
Edit