This article is written from a
Real World perspective.
TRON: Uprising is an animated science fiction TV series, part of the TRON series which airs on Disney's television channel Disney XD, in the United States. The show premiered on June 7, 2012, and is directed by Charlie Bean, who will also act as executive producer alongside producers Edward Kitsis and Adam Horowitz.
"Hidden away inside a computer, exists another world. Its creator designed it for games, but it became so much more. He called it The Grid, a digital utopia filled with infinite possibilities. He built a digital copy of himself named Clu, to create the perfect system. And he relied on the hero, Tron, to keep it free for all programs who lived there. But in his thirst for power, Clu betrayed his creator. Tron fought back, but Clu was too powerful and left him for dead. Clu dispatched his armies and seized absolute control. Now, in a far off corner of the Grid, a young program decides Clu must be stopped. His name is Beck. Could he be the next Tron?"
Plot
Beck is a young program who becomes the skillful leader of a revolution inside the computer world of the Grid. His mission is to free his home and friends from the reign of the villainous Clu and his henchman General Tesler. Beck will be trained by Tron, the greatest warrior the Grid has ever known. Tron will not only teach Beck the fighting and light cycle skills he needs to challenge this brutal military occupation, but he will be a guide and mentor to him as he grows beyond his youthful, impulsive nature into a courageous, powerful, strong leader. Destined to become "the next Tron", Beck adopts Tron's persona and becomes the arch enemy of General Tesler and his oppressive forces.
Episodes
Episode

U.S. Air Date

Plot Summary

Episode 1
Beck's Beginning
May 18, 2012
Beck doubts his ability to live up to expectations, and passes on becoming the next Tron.
Episode 2
The Renegade, Part 1
June 7, 2012
As Tron trains Beck, Beck begins to doubt the skills he is learning will be enough to prevail against Clu.
Episode 3
The Renegade, Part 2
June 14, 2012
While Mara works with Zed to get Able's rare light cycle back, Beck must figure out a way to release his friend Cutler from a death sentence.
Episode 4
Blackout
June 21, 2012
Mysterious blackouts begin to plunge Argon City into darkness.
Episode 5
Identity
June 28, 2012
Beck loses his identity disc and must recover it before all that he is is lost forever.
Episode 6
Isolated
July 5, 2012
Beck makes a daring theft and must escape; Paige engages him in an aerial dogfight and the two get stranded on a slowly derezzing island.
Episode 7
Price of Power
July 12, 2012
Beck defies Tron's orders to destroy a secret weapon; the Occupation takes programs captive.
Episode 8
The Reward
October 19, 2012
Beck's night off with his friends is ruined when the Occupation arrests an innocent program falsely accused of being The Renegade. When Zed and Mara are also caught up in the melee, Beck has to make a daring rescue using a new four-seat "light roadster" that was offered as bounty for The Renegade's capture.
Episode 9
Scars, Part 1
October 26, 2012
Beck must confront his mentor and convince Tron to halt his revenge against a program named Dyson, Tron's former friend and ally, who is now his mortal enemy. Tron's history before the occupation will be revealed, and viewers learn exactly what Clu did to injure Tron and force him into hiding.
Episode 10
Scars, Part 2
November 2, 2012
Tron continues to get his revenge on Dyson.
Episode 11
Grounded
December 3, 2012
The Renegade is challenged to a showdown by Tesler, but is ordered to stay at the Garage to work
Episode 12
We Both Know How This Ends
December 10, 2012
Mara is in charge of the garage and must prove her leadership skills.
Episode 13
The Stranger
December 17, 2012
Beck falls into a trap and learns a secret about his role as Tron's mentee.
Episode 14
Tagged
December 24, 2012
The Renegade recruits three fearless supporters who have expressed their commitment to the revolution by tagging the grid with the message that "Tron Lives." After inviting them to join in the resistance, he discovers one of them is his best friend Mara and has to convince them that tagging is not the right path and devise a new plan targeting Tesler's ship.
Episode 15
State of Mind
December 31, 2012
Tesler uses Scientist Keller's mind-control agent originally designed to liberate programs, to build his army. When Mara falls victim to supporting the Occupation and turns against the Renegade, Zed and the Renegade must form an uneasy alliance to help rescue her.
Episode 16
Welcome Home
January 7, 2013
Beck tries to rescue a fleeing government scientist before Paige and the Occupation finds her; Paige and Beck become passengers on the same runaway train and Beck must save the innocent programs on the train without revealing his identity.
Episode 17
Rendezvous
January 14, 2013
Beck agrees to go on a date with Paige, but their night is cut short when Paige is betrayed by Pavel and thrown into the Games; Beck thinks he may finally be able to win her over by rescuing her as The Renegade.
Episode 18
No Bounds
January 21, 2013
When 'The Stranger' (aka Cyrus) returns to Argon City to plot revenge on Beck and Tron, Beck is forced to choose between saving Tron or his friends.
Episode 19
Terminal
January 21, 2013
Continuity
TRON: Uprising is set after the events of TRON: Evolution, but before TRON: Legacy. For the purpose of story and character development, which could branch out but not directly conflict with the events portrayed in the movies, video game, or the graphic novel TRON: Betrayal, the series is set in Argon City, located in a part of the Grid far from Tron City.
In this series' timeline, Clu 2 has already taken over the Grid and is asserting his control over more distant areas, including Argon City. The "ISO Wars" is mentioned as being in the recent past, and Kevin Flynn is said to be in hiding.
Tron's Fate
The series builds up on the background story of Tron, particularly his experiences between Evolution and Legacy. An in-game cinematic in Evolution – which was shown as a flashback in Legacy – shows Tron being overwhelmed by Clu and several Black Guards to give Kevin time to flee. It is implied but never explicitly shown that Tron was subdued and injured, then later reprogrammed to become Rinzler.
The series establishes that Tron was indeed injured in the fight with Clu, but was able to escape relatively intact, although weakened and suffering from grievous wounds. He fled to Argon City, later stumbling upon Beck and thus setting the stage for the show. The series still leaves room for Tron to become Rinzler at a later time, before continuing into the events of Legacy.
While in hiding, Tron reverted to an elaborate white-suit/white-circuit design and color scheme reminiscent of his days in the original Grid. In the series pilot, his look switches between this and the look he adapted in the new Grid: An almost completely black suit with very minimal white circuitry (but without the "T" emblem on his chest seen in Evolution and Legacy). The white suit with white circuitry was bequeathed to Beck when Tron started training him to be "the next Tron". Following this, Tron adapted a black-suit/white-circuitry version of his original suit, and uses this mostly while at rest. During field operations, he uses the black suit with minimal white circuitry (with no "T").
Clu's coup, a scene revisited in Legacy and Evolution, was portrayed in Uprising with two major changes: Tron wore his white suit rather than the black one (which itself has more visible circuits in Evolution version of the scene than in Legacy), and at least eight Black Guards attacked Tron rather than the usual team of four shown in previous accounts.
TRON: Legacy director Joseph Kosinski has stated that he has had no input on the series.
Cast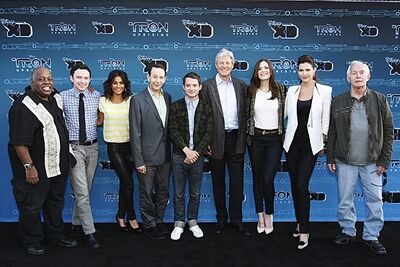 Trailers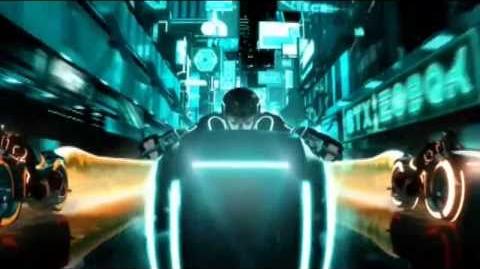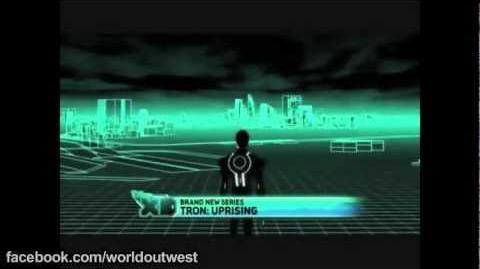 Music
The series was scored by Joseph Trapanese, who arranged Daft Punk's score for Tron: Legacy. A soundtrack album for the score was released digitally on January 8th, 2013. By its second day, it had become the ninth bestselling soundtrack album on iTunes and the 20th (print-on-demand CD) and fifth (mp3s) on Amazon.
A music video was released for one of the tracks, Lightbike Battle (3OH!3 and JT Remix). It contains scenes from the as-yet-unreleased final three episodes of the show.
Track list
| No. | Title | Artist | Length |
| --- | --- | --- | --- |
| 1. | Beck's Theme - Lightbike Battle | Joseph Trapanese | 3:57 |
| 2. | Tesler Throwdown | Joseph Trapanese | 4:13 |
| 3. | Paige's Past | Joseph Trapanese | 3:53 |
| 4. | Lux's Sacrifice | Joseph Trapanese | 4:51 |
| 5. | Price Of Power | Joseph Trapanese | 5:01 |
| 6. | Rescuing The Rebellion | Joseph Trapanese | 3:07 |
| 7. | Dyson Drops In (Scars Suite) | Joseph Trapanese | 2:11 |
| 8. | Tron's Promise (Scars Suite) | Joseph Trapanese | 4:42 |
| 9. | Tron's Turn (Scars Suite) | Joseph Trapanese | 2:22 |
| 10. | Beck Betrayed (Scars Suite) | Joseph Trapanese | 1:43 |
| 11. | Torture (Scars Suite) | Joseph Trapanese | 3:33 |
| 12. | Revenge (Scars Suite) | Joseph Trapanese | 2:41 |
| 13. | Redemption (Scars Suite) | Joseph Trapanese | 3:29 |
| 14. | Goodbye Renegade | Joseph Trapanese | 2:24 |
| 15. | Compressed Space | Joseph Trapanese | 5:53 |
| 16. | Renegade's Pledge - End Credits | Joseph Trapanese | 1:52 |
| 17. | Lightbike Battle (3OH!3 and JT Remix) | Joseph Trapanese | 4:43 |
| 18. | Inferno (Opiuo Remix) | Joseph Trapanese | 5:07 |
| 19. | Dyson (David Hiller Remix) | Joseph Trapanese | 5:00 |
| 20. | Rezolution | Cole Plante | 5:00 |
International release
Country / Region

Channel

Preview / Premiere

Title in Country

United States
Disney XD
May 18, 2012
June 7, 2012
Tron: Uprising
Canada
Disney XD Canada
June 23, 2012
Tron: Uprising
Ireland
United Kingdom
Disney XD (UK & Ireland)
July 12, 2012
September 8, 2012
Tron: Uprising
Poland
Disney XD Poland
October 20, 2012
Tron: Powstanie
South Africa
Disney XD South Africa
October 6, 2012
Tron: Opstand
France
Disney XD France
October 10, 2012
Tron: révolte
Belgium
Disney XD Belgium
October 10, 2012
Tron: Soulèvelment
Germany
Disney XD Germany
October 18, 2012
Tron: Aufstand
Spain
Disney XD Spain
November 1, 2012
Tron: Levantamiento
Russia
Disney Channel Russia
November 5, 2012
Трон: Восстание
Malaysia
Disney XD Malaysia
November 13, 2012
Tron: Pemberontakan
India
Disney XD India
November 1, 2012
January 1, 2013
Tron: Vidrōha
Mexico
Disney XD Latin America
2013
Tron: La Resistencia
Australia
New Zealand
Disney Channel (Australia)
Early 2013
Tron: Uprising
External Links