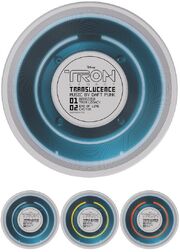 TRON: Legacy Translucence
is a rare vinyl release of music from
TRON: Legacy
by
Daft Punk
. These 10 inch vinyl records were first released in 2011 on Record Store Day in 18 different countries around the world. The vinyl edition also included the rare track "Castor," which was in the special two disc edition of the TRON: Legacy soundtrack. These records come in various
identity disc
colors. They are still available to buy online but are considered very rare.
Track Listing:
Edit
[Side 1]
1. Derezzed
2. TRON Legacy (End Titles)
[Side 2]
1. End of Line
2. Castor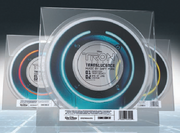 Ad blocker interference detected!
Wikia is a free-to-use site that makes money from advertising. We have a modified experience for viewers using ad blockers

Wikia is not accessible if you've made further modifications. Remove the custom ad blocker rule(s) and the page will load as expected.