This article is written from a
Real World perspective.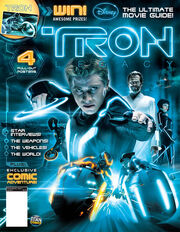 TRON: Legacy The Official Movie Magazine was published by Titan Magazines. It was available for sale at news stands on December 21, 2010. The magazine featured interviews with the cast of TRON: Legacy. It also included four pull-out posters and profiles of the vehicles and weapons from the new film. It also included an exclusive comic adventure entitled "Solar Sailer Prisoners."
Ad blocker interference detected!
Wikia is a free-to-use site that makes money from advertising. We have a modified experience for viewers using ad blockers

Wikia is not accessible if you've made further modifications. Remove the custom ad blocker rule(s) and the page will load as expected.