Rinzler's Identity Discs
Data
Usage
Thrown, and close combat weapon
Source
Persistent
Users
Rinzler
Behind the scenes
Appearances
TRON: Legacy
Rinzler's Identity Discs are a twin pair of identity discs. One is his original disc, while the other was gained in combat from a Black Guard. Together, they can combine to form a single disc, or they can be used separately (when in close combat, Rinzler uses them both in roughly the same manner as bladed knuckle dusters).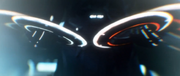 Rinzler used the discs in the Disc Wars, a gladiatorial competition in the Game Arena, as well as in operations for Clu.
While battling Sam Flynn aboard Clu's carrier ship, Rinzler lost his discs and was unable to reclaim them before falling into the Sea of Simulation.
Ad blocker interference detected!
Wikia is a free-to-use site that makes money from advertising. We have a modified experience for viewers using ad blockers

Wikia is not accessible if you've made further modifications. Remove the custom ad blocker rule(s) and the page will load as expected.