Ad blocker interference detected!
Wikia is a free-to-use site that makes money from advertising. We have a modified experience for viewers using ad blockers

Wikia is not accessible if you've made further modifications. Remove the custom ad blocker rule(s) and the page will load as expected.
This article is written from a
Real World perspective.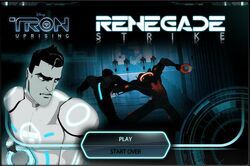 Renegade Strike is an action/adventure game on Disney XD's website that is based on the events of TRON: Uprising. In the game, you are the renegade Beck and you must defeat waves of General Tesler's Guards, Black Guards, and Sentries. Once the five levels have been beaten, survival mode is unlocked. Hordes of enemies rush you and you fight until you are derezzed.
The game is played from a bird's eye view, looking down on the characters from above.
Alternate versions of the game can be played on chapter three and chapter five of the Disney website's version of Beck's Beginning .
Purgos Alley
Jail Cells
Tesler's Palace
Tesler's Throne Room
Survival Mode
External Link(s)
Edit