This article is written from a
Real World perspective.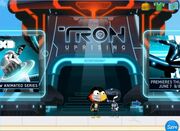 Poptropica is an online website where kids can go to islands and explore new things. For a limited time Poptropica had a building that served as an advertisement for the upcoming animated series, TRON: Uprising. The building shows a Recognizer with two banners for the animated series. Once you enter the building, a character that looks identical to Beck asks you for help. Inside the building you can watch ads for TRON: Uprising on a screen in the background. There are two different games to play inside the building. One is a Light Cycle battle and the other is a Disc Arena battle. When you beat the Light Cycle battle you recieve a white Light suit that you can use wear whenever you want. When you beat the Disc Arena battle you recieve an Identity Disc and a Light Cycle to use also. You can also win a Light Suit to wear that is identical to Beck's suit. You also have the ability to select a character such as a program, and wear the same suit as the programs.