Light Taser
Data
Usage
Electrocution
Source
Persistent
Users
Tron

Behind the scenes
Appearances
TRON: Uprising
The Light Taser is a device similar in shape and size to a Light Grenade, but it is used to shock someone into unconsciousness. Tron, under the guise of Rinzler, used a Light Taser to stun Beck, throwing the stunner through the air where it latched onto Beck and electrocuted him. It was also used by Lux, who stunned Tron to get to Beck and calm him down in the episode "Identity".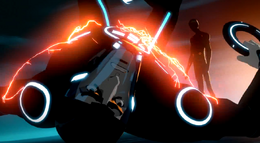 Ad blocker interference detected!
Wikia is a free-to-use site that makes money from advertising. We have a modified experience for viewers using ad blockers

Wikia is not accessible if you've made further modifications. Remove the custom ad blocker rule(s) and the page will load as expected.