A Light Cable is a baton-generated glowing cable that can be used to swing from one place to the other or grab objects from a distance. They have been demonstrated to be accurate enough in the hands of a Black Guard to snatch the identity disc from a user's back, as well as Quorra used one to swing under the Portal bridge. Another example is in TRON: Uprising, when a recognizer carries a statue of Clu to Argon Park.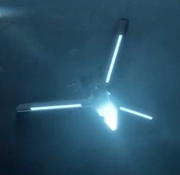 Ad blocker interference detected!
Wikia is a free-to-use site that makes money from advertising. We have a modified experience for viewers using ad blockers

Wikia is not accessible if you've made further modifications. Remove the custom ad blocker rule(s) and the page will load as expected.