This article is written from a
Real World perspective.
The following is a list of promotional items (or swag) that was given out by Flynn Lives during the Flynn Lives ARG.
Comic-Con '09
Flash drive
Given out to several movie news sites, it featured a GIF image that needed to be decoded.
Flynn's Arcade Coin
Flynn Lives T-shirt
These were given out at the end of Comic Con 2009 scavenger hunt. Showing blacklight on it shows SLASH DEREZZ leading you to flynnlives.com/derezz.
You can find a Flynn Lives T-Shirt for $9.99 at www.poputees.com
Flynn's Arcade T-shirt
Where's Sam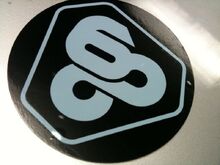 These objects were received for helping find Sam Flynn.
"89" Stickers
Two stickers with Sam's 89 logo on them. This logo is seen on the back of Sam Flynn's motorcycle helmet and also appears in TRON: The Next Day.
"89" Pin
A pin also with 89 logo on it.
Space Paranoids Pin
A pin showing the Space Paranoids logo on it.
Encom I.D. Badges
Received when finishing the Arcade Aid quiz. A link leading is provided to a site that where one can create a fake ENCOM Badge.
Postcards
Several Flynn Lives members received Flynn's Arcade postcards for games at the arcade. The games in these postcards include Arc Wars, Astro Gunner, Kraz-Bot, Vice Squad, D-Con 4 and Space Paranoids. The strips on the bottom of these cards combined shows ENCOMGAMES.JP. Upon completing the Circuit Cycles game, Flynn Lives members get all Postcards and an extra one of Circuit Cycles.
Comic Con 2010
Identity Disk
A toy Identity Disc which contains a USB (which has the 3rd TRON: Legacy trailer).
Arcade Aid Game
Poster Map
After completing the second part of the game the first 999 people to complete it get a large poster showing the entire game.
Pins
4 pins (2 of which get sent out to players) are given out to players who complete the game. The 4 pins are Punch Out and Face-Off (which is from the game) and a TRON Guard and Light Cycle pin.