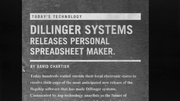 Dillinger Systems was ENCOM's major competitor during the early 1990s, rising to prominence with the release of a highly anticipated personal spreadsheet maker. Its success threatened ENCOM, which was described by Zack as "losing the software game" until its board demanded a change and ousted Interim CEO Alan Bradley, who had been trying to run the company along the same lines as its missing former CEO, Kevin Flynn.
The company owed its name to ENCOM's disgraced former senior executive, Ed Dillinger, though his role in its formation is not clear.
Ad blocker interference detected!
Wikia is a free-to-use site that makes money from advertising. We have a modified experience for viewers using ad blockers

Wikia is not accessible if you've made further modifications. Remove the custom ad blocker rule(s) and the page will load as expected.