Blaze was the main antagonist fought at the end of TRON: Evolution - Battle Grids. He appeared in a Light Cycle Arena Match. A trophy is earned after beating him, and then he attacks with his identity disc. However, Blaze misses and is taken away by guards.
Blaze is the only program known to have circuitry on his hair.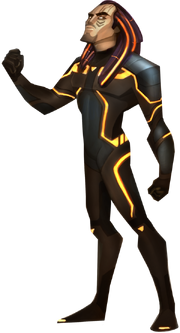 Ad blocker interference detected!
Wikia is a free-to-use site that makes money from advertising. We have a modified experience for viewers using ad blockers

Wikia is not accessible if you've made further modifications. Remove the custom ad blocker rule(s) and the page will load as expected.